TOS+H EXPO is exclusively for people who care about workers. It's incldue many category, such as Personal protective equipment (PPE), fabrics for protective wear and workwear, accessories & components.,etc. The experts in whole world join the fair to present outstanding products to make people feel more safe and comfortable working in the occupational health and safety sector.
We are happy to attend the TOS+H expo to present the chemical splash protection fabrics and electric arc protection fabrics that can provide an additional function for workwear to make it safer and more durable.
Two Topics of fabrics for protective wear and workwear fabric:
Chemical Splash Protection fabrics
Remarkable Electric Arc Protection fabrics
Sunny Special integrates the advantages of post-treatment and high-performance fabric to create new breed FR fabrics with Durable Water Repellency (DWR) function. It can offer additional liquid chemicals and molten iron splash protection in addition to flash fire and electric arc flash.
We can offer an excellent and cost-effective approach against fierce heat and flame. The fabrics will protect from the thermal hazards associated with an electric arc, flash fire incidents, and minimize skin burns. It will provide thermal insulation between the body and the heat source. It will not ignite, melt, or break open.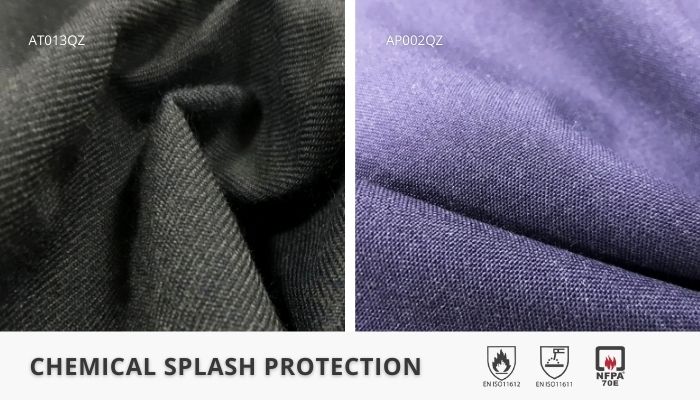 Chemical Splash Protection fabric : AT013QZ
Content : Modacrylic OPFP ara-aramid Twill
Testing : EN ISO 11612, EN ISO 11611, ASTM F1930, ASTM F1959, EN ISO 13034, AATCC 22, NFPA70E
Chemical Splash Protection fabric : AP002QZ
Content : Meta-aramid: 93%, Para-aramid: 5%, Anti-static: 2%, Plain Twill
Testing : EN ISO 11612, EN ISO 13034, AATCC 22, EN 1149-5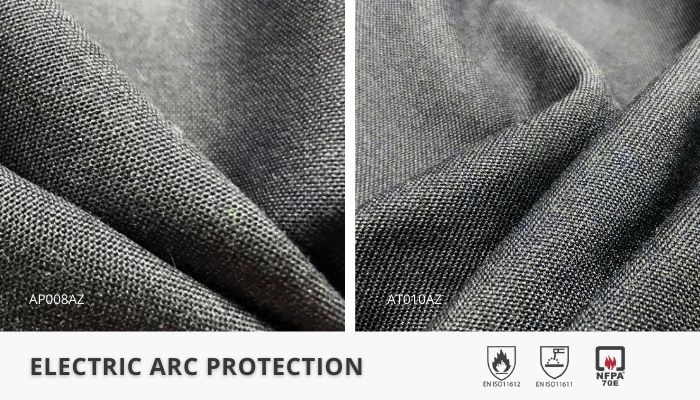 Electric Arc Protection fabric : AP008AZ
Content : OPF FR Rayon Para-aramid Dobby
Testing : EN ISO 11612, EN ISO 11611, ASTM F2700, ASTM F1930, ASTM F1959, NFPA70E
Electric Arc Protection fabric : AT010AZ
Content : OPF FR Rayon Para-aramid Twill
Testing : EN ISO 11612, ASTM F2700, ASTM F1930, ASTM F1959, NFPA70E