We know the weather is unpredictable, and you need to be ready for different situations on the same day; maybe you always go running to start your day but suddenly it's raining, followed by a heavy sun for lunch, and the wind blowing strong for the night. Also, it is not always possible to bring with you several changes of clothes, lucky us, already existing fabrics that solve it without sacrificing comfort.
Here are some factors you can recognize them.
Nobody likes to be wet, that's why it's a good idea to have clothes with a level of protection. Usually, you can find fabrics that are water-resistant or water-repellent. Both protect you from the rain, but not at the same level.
Water repellent fabrics help water droplets leave the cloth quickly to prevent further penetration. It's the basic level of water protection.
An advanced level of water protection fabric needs to pass a rain test (AATCC35). It measures the resistance of fabrics to the penetration of water by impact and thus can be used to predict the probable rain penetration resistance of fabrics. It is especially suitable for measuring the penetration resistance of garment fabrics.
On the other hand, waterproof is the highest level of protection if you want your skin to keep fresh; this is the result of mixing finishing hydrophobic treatments to keep the water outside and the moisture can go out.
No doubt, waterproof should be your election, but before continuing with the next step, check these two requirements:
For Waterproofness

, ratings are around 5,000mm if you plan to use it for rain or between 10,000mm and 15,000mm if you expect snow.

For Breathability

, ratings between 5,000 and 10,000g/m² will be enough for regular use.
We know the ultraviolet (UV) rays can damage your eyes and skin, but not many people know that they can also damage their clothes and reduce how long the fabric will last.Because of that, get a fabric with UV protection. It's good for you and your clothes.
The level of protection depends on the material's inherent resistance to UV radiation and added UV inhibitors.
To know the level of protection, the manufacturers used the SPF standard to measure the effectiveness of sunscreen. However, it was changed to use the UPF standard to measure the effectiveness of sun protective fabrics.
The UPF rate indicates how much of the sun's UV radiation is absorbed by the fabric. Then, a good UV protection could have a UPF value of 15 or 20 for a UV block between 93.3% and 95.8%.
3- Wind-resistant or windproof
Like water-resistant and waterproof, we have wind-resistant and windproof. Wind-resistant fabrics can create a barrier against air penetrating. However, windproof means that no wind will go through the material.
To measure the effectiveness against the wind is often used the number of cubic feet per minute (CFM) of about a 30-mile-per-hour wind that can pass through one square foot of the material.
But, what should you understand when you see it on a label?
In a few words, 60 CFM means that you don't have any barrier against the wind, 20 CFM is wind-resistant, 1 CFM or less it's windproof, and finally, 0 CFM is entirely windproof, avoiding any loss of heat.
4- Four-way stretch fabric
Four-way stretch fabric allows the fabric to expand and return to its original width and height. People can use it for biking, cycling, jogging, or hiking because it provides freedom of movement and comfort.
5- Extra bonus, be eco-friendly
In the production of functional fabrics, the chemical components used or the wastewater produced will cause harm to the environment. We have environmentally friendly process factories that use PFC-FREE chemicals, energy-saving machines, and wastewater reclamation systems to manufacture each fabric piece. At the same time, it also saves energy with wastewater.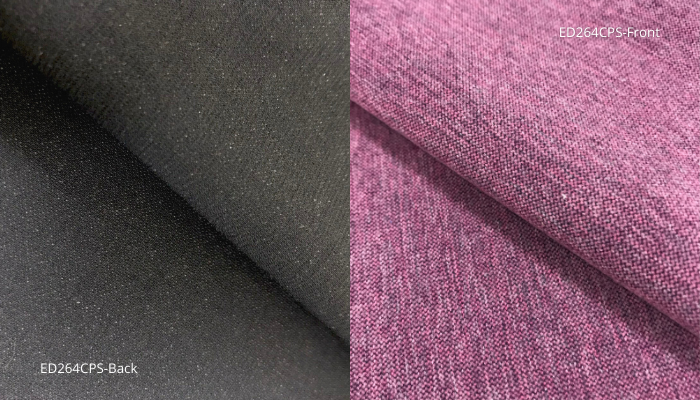 Here is the sustainable fabric solution for you to make a decision.
This soft and comfortable four-way stretch fabric uses better strength nylon as the front and soft, colorful blended yarn as the back.
Closely woven fabric owns UV protection and is wind-resistant inherently, and it passes the rain test (AATCC 35) by adding short-chain water repellent finishing. It lets you go outside without concerning environmental threats. We focus on its function and how people feel when wearing it compared to its luxurious appearance.